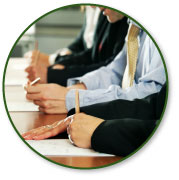 About Us
Federal Training Center is an independently owned training provider based out of Toronto, Canada. We have been offering Lift Truck training since July of 2001.
We pride ourselves on the excellence of our trainers and the high quality of their presentation. Training courses put on by the Federal Training Center are informative, entertaining and complete with refreshments and a lunch. Attendees receive up-to-date training on Federal OSHA standards and state approved regulations in the United States, and Canadian attendees will receive training on the CSA, Canada Labor codes, Ministry of Labor and any other relevant standards and regulations. Trainers contracted through Federal Training Center are without a doubt some of the finest authorized OSHA outreach trainers in the United States and are also CSA qualified in Canada.
Our safety classes are among the best in the industry, backed by a 100% money-back guarantee. As a new provider in the safety arena we offer a no-risk registration policy. Payment for each safety class is due on the course date, and this allows companies to register, and reserve a seat with the option to pay upon arrival. If a scheduled attendee is not able to make the class, we simply request a courtesy call as early as possible to ensure that anyone on a waiting list may be able to attend.

"This class moved along well, good video presentation, good sense of humor, knows the subject and good pace to the class."

Frank Rei
Quebecor World Paint